What is MyCase?
The number one reason why clients file grievances and complaints against their own attorney is because of a lack of communication between the client and the attorney. Here at Heckler Law Office we understand how important it is that our clients are informed and up-to-date about the progress of their case. The MyCase Client Portal solves this problem by providing a secure environment for you and your attorney to share case information, documents, and communications. Instead of relying on scattered channels of communication (email, phone, text message, traditional mail), the MyCase Client Portal will become your direct platform for INSTANT communications with Heckler Law Office.

Client Dashboard
The first screen shot shows the Client Dashboard. It's what you first see when you login to your MyCase account. Let's take a look at the elements of this page...

1. Navigation Tabs & Notification Bubbles - You have access to 6 sections: Home, Calendar, Documents, Billing, Messages, and Comments. In the screen shot , notice the red bubbles over the Calendar, Billing, and Messaging tab. This lets you know you have new calendar events, invoices, and messages waiting for you. Anytime a new item is shared with the you, a red notification bubble will appear for you.

2. Recent Activity - You get your own Recent Activity stream that gives updates related to your case that Heckler Law Office is sharing with you.

3. Upload Document, Send Message & Pay Invoice - These are the main actions that you can perform in MyCase. Upload Documents lets you choose a file from your hard drive and upload it into MyCase. Heckler Law Office will be notified when you upload a new document for our review. Send Messages lets you write a new secure message and send it to Heckler Law Office anytime: day or night. This allows you to have communications with your attorney even when she is out of the office. Finally, you can pay your invoices through your MyCase Client Portal using a credit or debit card.

4. Calendar & Recently Uploaded Documents - The calendar box will show you what upcoming events and deadlines are soon. The documents box will show you the most recently uploaded documents that have been shared with you.

Clients Can Upload Documents
You no longer have to use unsecured email or slow traditional mail to send your documents. You can upload documents right into MyCase from your Client Portal. When you click the Upload Document button, you will be taken to the Add Document Window.This is where you can describe any details or notes that you'd like to include with the document.

When you upload a document, all firm users associated with your linked case will be notified that a client has uploaded a new document.
---
Clients Can Send Secure Messages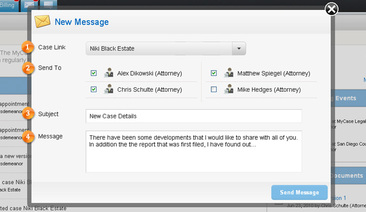 Instead of emailing (which is unsecured and not recommended for sensitive communications) or calling the firm, you can send secure messages from MyCase. This is a great option for connecting with your attorney because she can usually respond to a message even when she is at court or otherwise out of the office, thus avoiding the dreaded "phone tag.". When you click the Send Message button, you'll be taken to the New Message window. When you send a message, everyone that was checked in the Send To field will receive a notification that a client has sent them a new message.
---
Clients Can View Invoices and Make Payments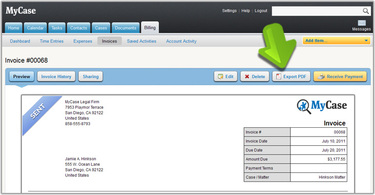 Tracking your case expenses and fees just got a whole lot easier! Many attorneys make the mistake of not sending clients the bill for expenses and services until the end of the representation. This is very frustrating to clients who did not anticipate a lump bill and who were not aware of how much their case was costing. Through MyCase Heckler Law Office will provide you with regular invoices so you can monitor the cost of your case. Plus, you can easily pay invoices online with a credit or debit card.
---